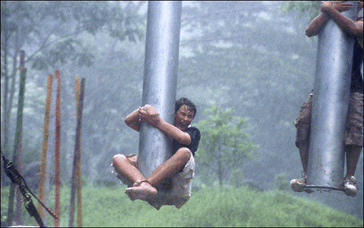 The
Right to Stay Challenge
is a challenge in every season of Endurance, which, depending on the situation, either happens on the first day or second. It determines whether a contestant will move on to the official competition.
With the exception of Endurance: High Sierras, the challenge involves a mind over matter standpoint. A person must overcome the pain to be an official contestant on Endurance by hanging on to something. The first 2-3 girls and guys to fall are automatically eliminated and had to leave. In E5, the last 2 girls and guys to complete the task were eliminated. The remaining contestants would become official Endurance contestants
In Season 3, the eliminated players were brought back the following day to compete in a second chance Right to Stay game. The winner of this game (Tom) chose his partner from the group of girls (Vanetta), forming the Brown Team.
In Seasons 3 and 5 the group was required to choose two players (a boy and a girl) who were allowed to sit out the Right To Stay Challenge, automatically advancing as if they had survived the challenge. In season 3 the boys were required to choose one girl to be safe and the girls were required to save a boy, the boys saved Lindi and the girls chose Reece because they were the most attractive in their opinions. In season 5, Darci and Aric were selected to sit out. They were then each allowed to save one other person (of the same gender). Darci chose Kelsey, while Aric chose Alex.
Challenges
Edit
E1: Hang on to a pair of metal rings while your legs are attached to a bungee chord.
E2: Hold a bar above your head while standing on a platform over the water. If you lower the bar too far, then the platform will drop, forcing you to have to hang on for as long as you can.
E3: Hold on to a giant pole.  (It started raining when the guys were competing.)
E4: Hold on to a bar while gliding across the lake. Once you stop gliding, you have to hang on.
E5: Walk across a thin bar. In order to qualify to be an official contestant, you have to complete 5 laps across the lake and back.
E6: Hold on to a rope.
Ad blocker interference detected!
Wikia is a free-to-use site that makes money from advertising. We have a modified experience for viewers using ad blockers

Wikia is not accessible if you've made further modifications. Remove the custom ad blocker rule(s) and the page will load as expected.